This crowdfunding page originally appeared on Thrinacia. This page does not have the payment option as initially appeared. If you would like to donate to our ongoing campaign, please e-mail donation@area34brewing.com (The same rewards apply.) Thanks!
The New York Finger Lakes region has become a dynamic force in the wine, spirits and craft beer industries. Suitable climate, terrain and business conditions have combined to create a variety of craft beverage destinations for locals and tourists. Locally-sourced agricultural inputs provide a taste of the terroir of NY, culminating in fresh, flavorful drinks.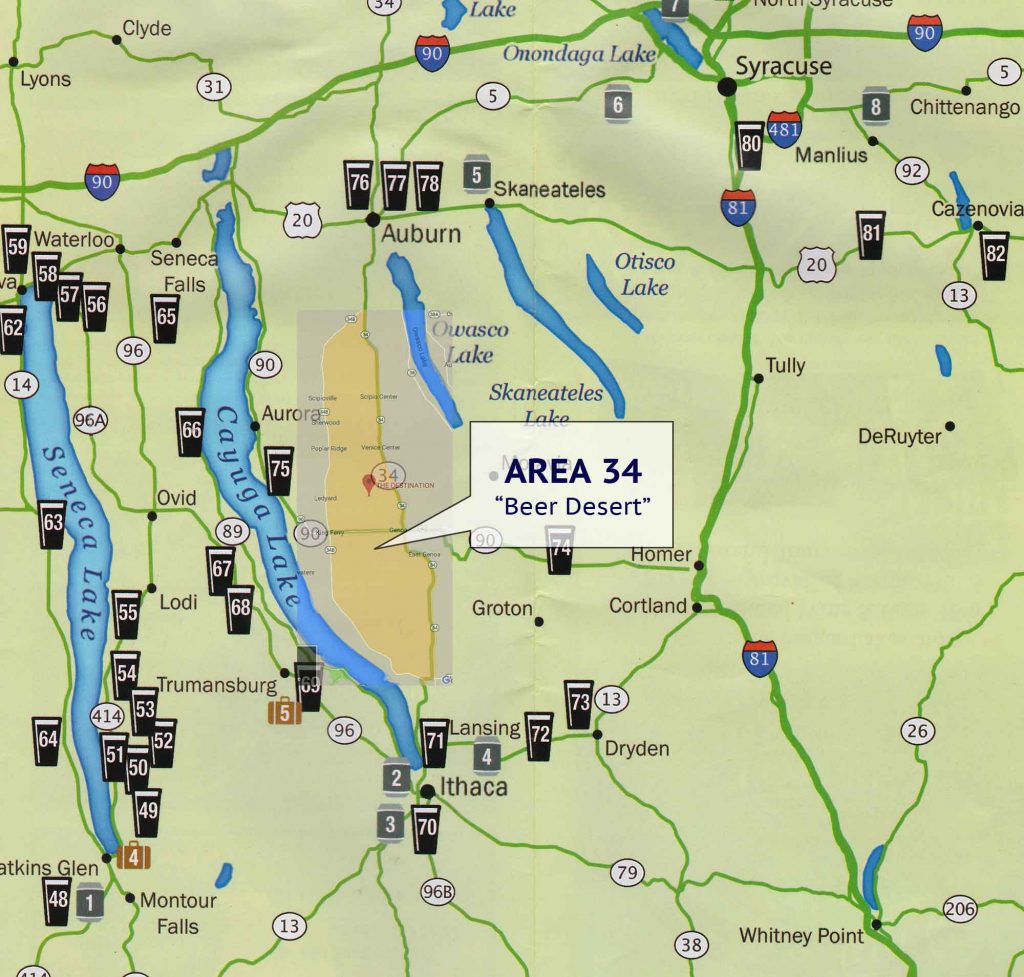 The above map is a section of the Finger Lakes Beer Trail map (FingerLakesBeerTrail.com). The highlighted area is notable for its absence of breweries. This "beer desert" is the future home of Area 34 Brewing.
New York State has recognized the farm brewing industry and is providing incentives to encourage NY agricultural inputs and production. The craft beer industry is booming as more people find increasing satisfaction drinking artesanal beers with a multitude of styles. The beer renaissance has given license to brewers to try a wide variety of grains, hops, fruits, vegetables, nuts, berries, roots, shoots, spices and just about anything else that creates a noteworthy brew. The charge of craft brewers encourages the discovery and adoption of fresh, creative flavors which are, more and more, from local sources.

This is just the beginning of our story, but the brewing industry has been part of civilization for millennia. Some have credited it FOR civilization. Whatever you believe, the time seems right for this particular brewery.
Receive 4 Quon for your $40 pledge. Quon are virtual tokens equal to one beer each. We will record this information in a digital account. More simply, for $40 we'll provide you some craft beers when you visit.

For $120 and up, we'll also send you a T-shirt. The Area 34 Brewing logo (front) and the slogan "The Brewth is Out There" (back) will appear in white on this black T-shirt. Choose your size from Adult XS to Adult XL.

If you donate $500 or more, you are an ESP and a VIP. You are an Extra Special Person. We invite family and close friends to give to future generations through this business.
Besides the T-shirt and Quon provided at the $120 level, you will become a donor of special mention. We will offer the utmost hospitality to those of you encouraging us by a donation at this level. Please contact Pete or Joe if you have any questions.
We look forward to the help and encouragement of all our supporters!
Area 34
As far as the name goes, it has many dimensions of meaning. The brewery is breaking ground in the area bounded by Routes 34 & 34B though "we are not alone" and we look forward to more craft breweries dotting the region. We've always enjoyed the fantasy and possibility of science fiction, thus the name is also an homage to the popular government extraterrestrial research site Area 51. We look forward to including inspirational, thought-provoking technology in our operations and environment.
It has been an adventure of discovery just to reach this starting point. There are many new frontiers to explore. We welcome you to join us in building and brewing a better tomorrow.
$40.00 USD: Four Beer
4 Quon: virtual tokens worth four beers in our taproom. See a description of this reward in the details of the campaign.
$120.00 USD: Tee – One
In addition to the 4 Quon above, we'll send you a T-shirt. We're still working on our logo. See a description of the T-shirt in the details of the campaign.
$500.00 USD: Extra Special Person
You are an Extra Special Person. See a description in the details of the campaign.
$1,000.00 USD: ESP II
You are an Extra-extra Special Person. You already know that.