A 3D model of the Area 34 brewery and tavern. Step into our metaverse and experience a layout for the space. Explore with your mouse or finger (guidelines below). A work-in-progress.

If image does not display below, your OS/browser may be incompatible with the viewer Javascript.
How to use viewer:
Mouse Wheel:

Zoom IN/OUT

Left Mouse Button/Touch Hold:

Hold and move mouse to move model.
DOUBLE-CLICK/TOUCH to target and zoom.

Right Mouse Button:

Show menu, including pre-set views to explore.
Change Viewpoint by selecting from pop-up menu: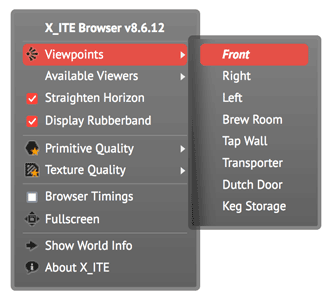 Hint: After changing view, double-click to move in a direction before manipulating world with mouse movement.